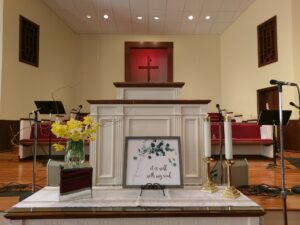 In the summer of 1939, the First German Baptist Church (now Seventh Street Baptist Church) conducted a brush arbor meeting on lot on Brunner Street with the goal of reaching people in the developing section of the northwest part of the city of Cullman.
&nbsp
As a result of that meeting, "Cullman North Side Missionary Baptist Church of Christ" was organized on Sunday, August 20, 1939, with 25 charter members (1 by baptism and 24 by letter from surrounding churches).  George W. Jones was called as the first pastor.
&nbsp
The first permanent building was located on Cleveland Avenue NW across the street and to the east of the current sanctuary.  Sunday School rooms were later added to the back of the building.
&nbsp
As the church began to experience growth in the 1950s, a second sanctuary was dedicated in 1954 on Katherine Street NW, the building that is now the church's fellowship hall.  An education building was added in 1967 and the current sanctuary that stands on the corner of Katherine Street and Cleveland Avenue was completed and dedicated on March 15, 1970.  Through the years, a youth house was added and renovations were made to both the fellowship hall and the sanctuary.
&nbsp